3GKW-MW 0.6/1KV Medium Wall Single Core
Application
Single core power and control cable designed for protected, fixed installation inside and outside railway vehicles for connecting fixed and moving parts in direct current and alternating voltage technology, especially converter technology.
Standards
BS 6853 -1a
DIN 5510-1 1-4
NFF 16-101 F0
EN 45545-2
Construction
Conductors: Circular Class 5 stranded tinned copper to IEC60228/VDE 0295.
Insulation: Electron beam crosslinkable LSZH compound.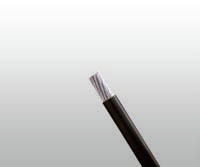 Electrical Characteristics at 20℃
Nominal Conductor Cross Section
mm²
0.5
0.75
1
1.5
2.5
4.0
6.0
10
16
25
35
Maximum Conductor Resistance
Ω/km
40.1
26.7
20.0
13.7
8.21
5.09
3.39
1.95
1.24
0.795
0.565
Voltage Rating
KV
0.6/1
Nominal Conductor Cross Section
mm²
50
70
95
120
150
185
240
300
400
Maximum Conductor Resistance
Ω/km
0.393
0.277
0.21
0.164
0.132
0.108
0.0817
0.0654
0.0495
Voltage Rating
KV
0.6/1
Mechanical and Thermal Properties
Minimum Bending Radius: 4xOD (Static); 6xOD (Flexing)
Temperature Range: -40℃ ~+120℃ (Static); -35℃ ~+90℃ (Flexing)
Short Circuit Temperature: +280℃
Dimensions and Weight
No. of cores& Nominal Conductor Cross Sectional Area No.×mm²
Number and Nominal Diameter of Strands
No/mm
Nominal Insulation Thickness mm
Nominal Overall Diameter mm
Nominal kg/km
1×0.5
19/0.18
16/0.20
0.5
2.0
8
1×0.75
24/0.20
0.5
2.2
11
1×1.0
32/0.20
0.55
2.45
14
1×1.5
30/0.25
0.55
2.7
20
1×2.5
50/0.25
0.6
3.3
31
1×4
56/0.30
0.65
3.95
45
1×6
84/0.30
0.7
4.7
69
1×10
80/0.40
0.8
5.85
113
1×16
119/0.41
126/0.40
0.9
7.3
156
1×25
182/0.41
196/0.40
1.0
8.9
250
1×35
266/0.41
276/0.40
1.1
10.2
330
1×50
378/0.41
396/0.40
1.2
11.9
500
1×70
348/0.51
360/0.50
1.3
14.3
690
1×95
444/0.51
475/0.50
1.4
15.9
883
1×120
551/0.51
608/0.50
1.5
17.9
1180
1×150
722/0.51
756/0.50
1.6
20.3
1460
1×185
874/0.51
925/0.50
1.7
22.0
1780
1×240
1147/0.51
1221/0.50
1.9
25.2
2220
1×300
1443/0.51
1525/0.50
2.0
28.0
3000
1×400
2016/0.51
2013/0.50
2.2
33.8
4000