G7623 Trackside Communications Cables
Application
The cables are designed for limited fi re hazard applications for internal use within stations, buildings and equipment rooms.
Standards
Construction
Conductors: Tinned annealed solid copper, 0.5/0.6/0.63 mm nominal diameter.
Insulation: LSZH Insulation.
Cabling Element: Two insulated conductors are twisted together to form a pair.
Stranding: Cables are composed of unit stranding.
Core Wrapping: Non-hygroscopic plastic tape with overlapping.
Outer Sheath: LSZH sheath.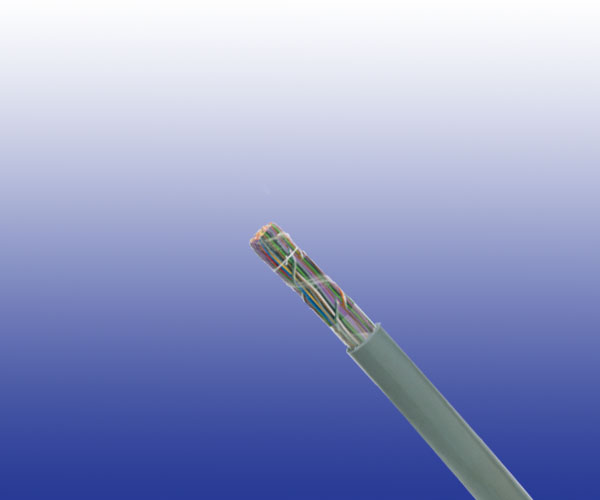 Core Identification
Electrical Characteristics at 20℃
| | | | | |
| --- | --- | --- | --- | --- |
| Nominal Conductor Diameter | mm | 0.5 | 0.6 | 0.63 |
| Maximum Conductor Resistance | Ω/km | 98 | 68 | 58 |
| Minimum Insulation Resistance @500 V DC | MΩ.km | 120 | 120 | 120 |
| Maximum Average Mutual Capacitance @1KHz | nF/km | 80 | 80 | 80 |
| Maximum Average Capacitance Unbalance @800Hz pair-to-pair | | 500 | 500 | 500 |
| Test Voltage AC 1min | V | 500 | 500 | 500 |
Mechanical and Thermal Properties
Minimum Bending Radius: 7.5×OD

Temperature Range: -30℃ to +70℃ (during operation); -10℃ +55℃ (during installation)
Dimensions and Weight
Cable Code
No. of pairs
Minimum Sheath Thickness
mm
Nominal Overall Diameter
mm
Nominal Weight
kg/km
0.5mm Conductor, 0.82mm Insulated Wire
RS7623A2-HH-1P0.5
1
1.3
6.0
30
RS7623A2-HH-2P0.5
2
1.3
7.0
45
RS7623A2-HH-3P0.5
3
1.4
7.0
50
RS7623A2-HH-6P0.5
6
1.5
9.0
61
RS7623A2-HH-10P0.5
10
1.6
11.0
107
RS7623A2-HH-20P0.5
20
1.9
14.0
190
RS7623A2-HH-40P0.5
40
1.9
16.0
320
RS7623A2-HH-80P0.5
80
2.2
23.0
640
RS7623A2-HH-100P0.5
100
2.2
25.0
760
RS7623A2-HH-160P0.5
160
2.6
29.0
1150
0.6mm Conductor, 1.12mm Insulated Wire
RS7623A2-HH-1P0.6
1
1.4
6.0
35
RS7623A2-HH-2P0.6
2
1.4
7.0
50
RS7623A2-HH-3P0.6
3
1.5
7.0
60
RS7623A2-HH-6P0.6
6
1.6
9.0
85
RS7623A2-HH-10P0.6
10
1.7
11.0
145
RS7623A2-HH-20P0.6
20
2.2
14.0
245
RS7623A2-HH-40P0.6
40
2.2
18.0
410
RS7623A2-HH-80P0.6
80
2.8
25.0
830
RS7623A2-HH-100P0.6
100
2.8
27.0
980
RS7623A2-HH-160P0.6
160
3.2
33.0
1450
0.63mm Conductor, 1.15mm Insulated Wire
RS7623A2-HH-1P0.63
1
1.4
5.5
40
RS7623A2-HH-3P0.63
3
1.5
7.3
70
RS7623A2-HH-5P0.63
5
1.6
8.5
89
RS7623A2-HH-6P0.63
6
1.6
8.9
100
RS7623A2-HH-10P0.63
10
1.7
11.1
170
RS7623A2-HH-12P0.63
12
1.7
11.6
195
RS7623A2-HH-160P0.63
160
3.2
35.0
1595