RT/F3 E1/E2/E3 Type Axle Counter Cable
Application
The cables are designed for transmission of signals up to 90 kHz in axle counter train detection systems.
Standards
Construction
Conductors: Tinned copper, 0.9/1.4 mm nominal diameter.
Insulation: Solid polyethylene.
Cabling Element: Two insulated conductors are twisted together to form a pair.
Stranding: Pairs are helically stranded in concentric layers.
Filling: Cable core interstices are filled with a low-permitivity compound. Unfi lled cables option can be offered upon request.
Core Wrapping: Plastic tape(s) with overlapping.
Moisture Barrier: One laminated sheath made of aluminium tape coated with PE Copolymer on at least one side is applied with longitudinally overlap.
Inner Sheath: Polyethylene or LSZH fi re retardant compound.
Electrostatic Shield: One layer of helically applied copper wires.
Electromagnetic Shield: Two helically applied steel tapes.
Outer Sheath: Polyethylene or LSZH fi re retardant compound. Ruggedised PE sheath compound can be offered upon request.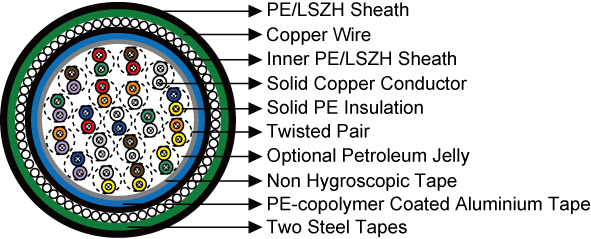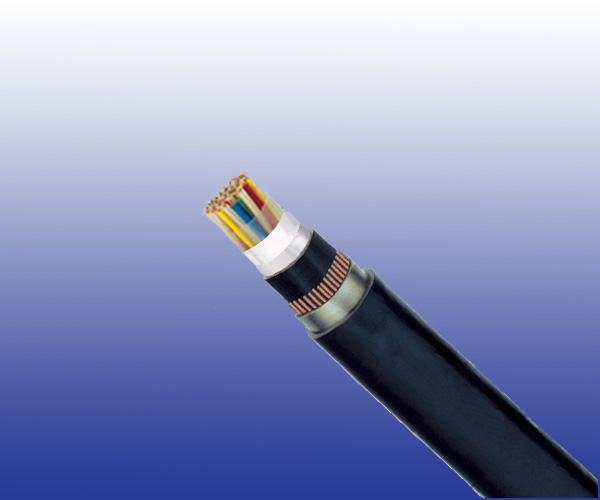 Type Codes
F1 class: Non LSZH cables.
F5 class: Unfi lled cables
D type: Unarmoured types
R type: Ruggedised PE sheath
S type: Steel tape armoured types
B type: Brass tape armoured types
E1, E2 & E3 types: 3 different induction protection levels available.
Electrical Characteristics at 20℃
| | | | |
| --- | --- | --- | --- |
| Nominal Conductor Diameter | mm | 0.9 | 1.4 |
| Nominal Conductor Cross Section | mm² | 0.63 | 1.5 |
| Maximum Conductor Resistance | Ω/km | 30.0 | 12.5 |
| Minimum Insulation Resistance @500 V DC (1min) | MΩ.km | 5000 | 5000 |
| Nominal Conductor Capacitance @800Hz/1000Hz (AC) | nF/km | 42+3 | 47+3 |
| Dielectric Strength, conductor to screen (DC voltage 2mins) | V | 3000 | 3000 |
| Maximum Average Attenuation | | | |
| @1.0KHz | dB/km | 0.73 | 0.45 |
| @2.4KHz | dB/km | 1.10 | 0.62 |
| @40KHz | dB/km | 2.88 | 1.77 |
| @90KHz | dB/km | 3.70 | 2.41 |
| @1.024MHz | dB/km | 11.2 | 7.45 |
| Minimum Average Near-end Crosstalk | | | |
| @1.0KHz | dB/km | 60 | 60 |
| @2.4KHz | dB/km | 60 | 60 |
| @40KHz | dB/km | 50 | 50 |
| @90KHz | dB/km | 50 | 50 |
| @1.024MHz | dB/km | 35 | 35 |
| Maximum Reduction Factor @100V/km,50Hz |   |   |   |
| EMI RF 1 (modest level) |   | 0.65 | 0.65 |
| EMI RF 2 (medium level) |   | 0.45 | 0.45 |
| EMI RF 3 (high level) |   | 0.20 | 0.20 |
Mechanical and Thermal Properties
Minimum Bending Radius: 7.5×OD (unarmoured); 10×OD (armoured)
Temperature Range: -30℃ to +60℃ (during operation); -10℃ to +60℃ (during installation)
Dimensions and Weight
Cable Code
Number
of Pairs
Nominal Sheath Thickness
mm
Nominal Overall
Diameter
mm
Nominal Weight
kg/km
Inner
Outer
0.9mm Conductor , 1.8mm Insulated Wire
RS/RT/F3-S/E3-2Y(F)(L)2YDB2Y-2P0.9
2
2.2
2.4
23.4
1300
RS/RT/F3-S/E3-2Y(F)(L)2YDB2Y-10P0.9
10
2.2
2.4
31.8
1650
RS/RT/F3-S/E3-2Y(F)(L)2YDB2Y-12P0.9
12
2.2
2.4
35.0
1760
RS/RT/F3-S/E3-2Y(F)(L)2YDB2Y-19P0.9
19
2.2
2.4
41.4
2275
RS/RT/F3-S/E3-2Y(F)(L)2YDB2Y-24P0.9
24
2.2
2.4
44.0
2450
1.4mm Conductor, 2.7mm Insulated Wire
RS/RT/F3-S/E3-2Y(F)(L)2YDB2Y-2P1.4
2
2.2
2.4
33.6
1480
RS/RT/F3-S/E3-2Y(F)(L)2YDB2Y-10P1.4
10
2.2
2.4
40.2
2200
RS/RT/F3-S/E3-2Y(F)(L)2YDB2Y-12P1.4
12
2.2
2.4
42.2
2325
RS/RT/F3-S/E3-2Y(F)(L)2YDB2Y-19P1.4
19
2.2
2.4
47.5
2975
RS/RT/F3-S/E3-2Y(F)(L)2YDB2Y-24P1.4
24
2.2
2.4
52.5
3150