500/750V Fire Survival Mineral Insulated Multicore LSZH Cables to EME-SP-14-028
Application
These fire survival cables are designed for installation in hazardous installations and radioactive environments.
Standards
EME SP 14 028
BS 6387 CWZ
BS 5839-1 Standard
BS 5839-1 Enhanced
BS 7346-6
BS EN 60702
Construction
Conductors: Solid plain copper conductors.
Insulation: Magnesium Oxide.
Outer sheath: Plain copper sheath with optional LSZH covering.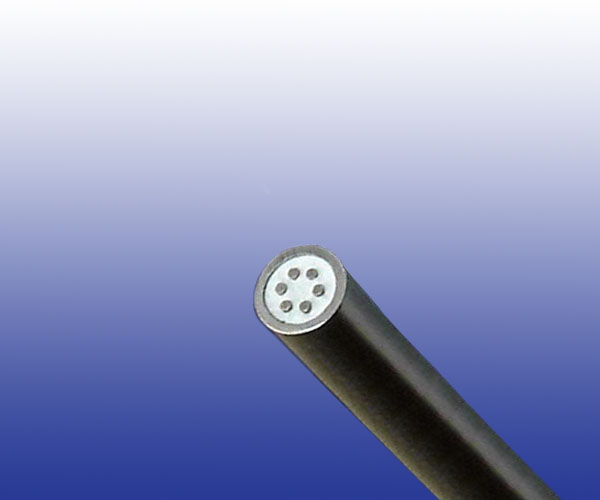 Electrical Characteristics at 20℃
Light Duty 0.5KV Grade
Nominal Conductor Diameter
mm
1.13
1.39
1.77
2.25
Nominal Conductor Cross Section
mm²
1.0
1.5
2.5
4.0
Maximum DC Conductor Resistance
Ω/km
18.1
12.1
7.41
4.64
Voltage Rating
KV
0.5
Heavy Duty 0.75KV Grade
Nominal Conductor Diameter
mm
1.39
1.77
2.25
2.75
3.57
4.5
5.66
6.66
7.75
Nominal Conductor Cross Section
mm²
1.5
2.5
4.0
6.0
10.0
16.0
25.0
35.0
50.0
Maximum DC Conductor Resistance
Ω/km
12.1
7.41
4.64
3.08
1.83
1.15
0.727
0.524
0.387
Voltage Rating
KV
0.75
Nominal Conductor Diameter
mm
9.32
10.98
12.33
13.7
15.18
17.33
19.37
22.37
Nominal Conductor Cross Section
mm²
70.0
95.0
120.0
150.0
185.0
240.0
300.0
400.0
Maximum DC Conductor Resistance
Ω/km
0.268
0.193
0.153
0.124
0.101
0.0775
0.0601
0.047
Voltage Rating
KV
0.75
Mechanical and Thermal Properties
Minimum Bending Radius: 2×OD (D<7); 3×OD (7 ≤ D<12); 4×OD (12 ≤ D<15); 6×OD (D ≥ 15)
Temperature Range: -80℃ to +105℃
Dimensions and Weight
Light Duty 0.5KV Grade
Cable Code
No. of cores&
Nominal Conductor
Cross Sectional Area
No.×mm²
Cross Sectional
Area of Copper
Sheath
mm²
Nominal Overall
Diameter
mm
Nominal Weight
kg/km
With
LSZH
Covering
Without
LSZH
Covering
With
LSZH
Covering
Without
LSZH
Covering
RF14028L-MICC-300/500V-2G1
2×1.0
5.4
6.4
5.1
126
104
RF14028L-MICC-300/500V-2G1.5
2×1.5
6.3
7.0
5.7
154
136
RF14028L-MICC-300/500V-2G2.5
2×2.5
8.2
7.9
6.6
206
187
RF14028L-MICC-300/500V-2G4
2×4.0
10.7
9.2
7.7
322
248
RF14028L-MICC-300/500V-3G1
3×1.0
6.7
7.1
5.8
159
136
RF14028L-MICC-300/500V-3G1.5
3×1.5
7.8
7.7
6.4
194
176
RF14028L-MICC-300/500V-3G2.5
3×2.5
9.5
8.8
7.3
272
223
RF14028L-MICC-300/500V-4G1
4×1.0
7.7
7.6
6.3
187
162
RF14028L-MICC-300/500V-4G1.5
4×1.5
9.1
8.3
7.0
231
203
RF14028L-MICC-300/500V-4G2.5
4×2.5
11.3
9.6
8.1
336
277
RF14028L-MICC-300/500V-7G1
7×1.0
11.0
9.3
7.6
269
236
RF14028L-MICC-300/500V-7G1.5
7×1.5
11.8
9.9
8.4
351
295
RF14028L-MICC-300/500V-7G2.5
7×2.5
15.4
11.2
9.7
475
411
Heavy Duty 0.75KV Grade
Cable Code
No. of cores&
Nominal Conductor
Cross Sectional Area
No.×mm²
Cross Sectional
Area of Copper
Sheath
mm²
Nominal Overall
Diameter
mm
Nominal Weight
kg/km
With
LSZH
Covering
Without
LSZH
Covering
With
LSZH
Covering
Without
LSZH
Covering
RF14028H-MICC-450/750V-1G6
1×6.0
8.0
7.7
6.2
213
173
RF14028H-MICC-450/750V-1G10
1×10.0
9.0
8.8
7.3
273
240
RF14028H-MICC-450/750V-1G16
1×16.0
12.0
9.8
8.3
361
326
RF14028H-MICC-450/750V-1G25
1×25.0
15.0
11.1
9.6
506
457
RF14028H-MICC-450/750V-1G35
1×35.0
18.0
12.2
10.7
650
585
RF14028H-MICC-450/750V-1G50
1×50.0
22.0
13.6
12.1
842
758
RF14028H-MICC-450/750V-1G70
1×70.0
27.0
15.2
13.7
1147
1016
RF14028H-MICC-450/750V-1G95
1×95.0
32.0
17.4
15.4
1520
1324
RF14028H-MICC-450/750V-1G120
1×120.0
37.0
18.8
16.8
1870
1612
RF14028H-MICC-450/750V-1G150
1×150.0
44.0
20.4
18.4
2230
1949
RF14028H-MICC-450/750V-1G185
1×185.0
54.0
23.2
20.4
2575
2370
RF14028H-MICC-450/750V-1G240
1×240.0
70.0
26.1
23.3
3312
3050
RF14028H-MICC-450/750V-1G300
1×300.0
79.0
28.8
26.0
3972
3791
RF14028H-MICC-450/750V-1G400
1×400.0
91.0
32.8
30.0
5211
5004
RF14028H-MICC-450/750V-2G1.5
2×1.5
11.0
9.4
7.9
259
237
RF14028H-MICC-450/750V-2G2.5
2×2.5
13.0
10.2
8.7
314
276
RF14028H-MICC-450/750V-2G4
2×4.0
16.0
11.3
9.8
398
355
RF14028H-MICC-450/750V-2G6
2×6.0
18.0
12.4
10.9
483
446
RF14028H-MICC-450/750V-2G10
2×10.0
24.0
14.2
12.7
697
619
RF14028H-MICC-450/750V-2G16
2×16.0
30.0
16.2
14.7
968
850
RF14028H-MICC-450/750V-2G25
2×25.0
38.0
19.1
17.1
1275
1178
RF14028H-MICC-450/750V-3G1.5
3×1.5
12.0
9.8
8.3
290
254
RF14028H-MICC-450/750V-3G2.5
3×2.5
14.0
10.8
9.3
365
323
RF14028H-MICC-450/750V-3G4
3×4.0
17.0
11.9
10.4
461
415
RF14028H-MICC-450/750V-3G6
3×6.0
20.0
13.0
11.5
590
526
RF14028H-MICC-450/750V-3G10
3×10.0
27.0
15.1
13.6
853
754
RF14028H-MICC-450/750V-3G16
3×16.0
34.0
17.1
15.6
1080
1034
RF14028H-MICC-450/750V-3G25
3×25.0
42.0
20.2
18.2
1548
1444
RF14028H-MICC-450/750V-4G1.5
4×1.5
14.0
10.6
9.1
344
305
RF14028H-MICC-450/750V-4G2.5
4×2.5
16.0
11.6
10.1
430
384
RF14028H-MICC-450/750V-4G4
4×4.0
20.0
12.9
11.4
577
507
RF14028H-MICC-450/750V-4G6
4×6.0
24.0
14.2
12.7
718
644
RF14028H-MICC-450/750V-4G10
4×10.0
30.0
16.3
14.8
1050
911
RF14028H-MICC-450/750V-4G16
4×16.0
39.0
19.3
17.3
1390
1286
RF14028H-MICC-450/750V-4G25
4×25.0
49.0
22.3
20.1
1943
1805
RF14028H-MICC-450/750V-7G1.5
7×1.5
18.0
12.3
10.8
478
432
RF14028H-MICC-450/750V-7G2.5
7×2.5
22.0
13.6
12.1
614
559
RF14028H-MICC-450/750V-12G1.5
12×1.5
28.0
15.8
14.1
772
712
RF14028H-MICC-450/750V-12G2.5
12×2.5
34.0
17.9
15.6
970
911
RF14028H-MICC-450/750V-19G1.5
19×1.5
37.0
18.9
16.6
1086
992