12/20(24)KV Power Cables to CENELEC HD620 & C 33-226
Application
The cables are power cables for power networks, underground, outdoors and in cable ducting, in particular for installation where fi re, smoke emission and toxic fumes create a potential threat.
Standards
Construction
Conductor: Class 2 stranded plain copper / aluminium conductor to BS EN 60228: 2005 (previously BS 6360).
Conductor Screen: Semi-conducting material.
Insulation: XLPE.
Insulat ion Screen: Semi -conduct ingmaterial.
Metallic Screen: Copper wire screen.
Filler: PETP (Polyethylene Terephthalate) fibres.
Separator: Binding tape.
Sheath: PE.

Optional

Armoured Cables: Galvanized steel fl at wire armoured cables can be offered as options.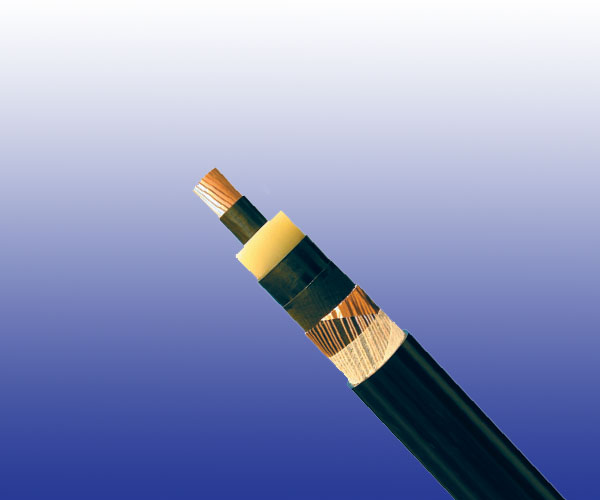 Electrical Characteristics at 20℃
Copper Conductor
Nominal Conductor Cross Section
mm²
 
50
95
150
240
300
400
500
630
Maximum DC Conductor Resistance
Ω/km
 
0.387
0.193
0.124
0.0754
0.0601
0.047
0.0366
0.0283
Voltage Rating
KV
11
Aluminium Conductor
Nominal Conductor Cross Section
mm²
95
150
240
300
400
500
630
Maximum DC Conductor Resistance
Ω/km
0.32
0.206
0.125
0.1
0.0778
0.0605
0.0469
Voltage Rating
KV
20
Mechanical and Thermal Properties
Minimum Bending Radius: 15×OD (for single core cables); 12×OD (for three core cables)
Temperature Range: 0℃ to +90℃ (during operation); 0℃ to +60℃ (during installation)
Dimensions and Weight
XKDT Single Core 12/20KV Copper Conductor
Cable Code
No. of cores&
Nominal Conductor
Cross Sectional Area
No.×mm²
No. & Nominal
Diameter of
Strands
No/mm
Nominal
Insulation
Thickness
mm
Nominal
Sheath
Thickness
mm
Nominal
Overall
Diameter
mm
Nominal
Weight
kg/km
RF33226-XKDT-12/20KV-1G25CU
1×25
7/2.14
5.5
1.8
27
740
RF33226-XKDT-12/20KV-1G50CU
1×50
19/1.78
5.5
2.0
29
1120
RF33226-XKDT-12/20KV-1G95CU
1×95
19/2.52
5.5
2.1
32
1640
RF33226-XKDT-12/20KV-1G150CU
1×150
37/2.25
5.5
2.2
35
2320
RF33226-XKDT-12/20KV-1G240CU
1×240
61/2.25
5.5
2.4
41
3360
RF33226-XKDT-12/20KV-1G300CU
1×300
61/2.52
5.5
2.5
43
4060
RF33226-XKDT-12/20KV-1G400CU
1×400
61/2.85
5.5
2.6
46
5040
RF33226-XKDT-12/20KV-1G500CU
1×500
91/2.65
5.5
2.7
50
6150
RF33226-XKDT-12/20KV-1G630CU
1×630
127/2.52
5.5
2.9
56
7830
XKDT-YT Three Core 12/20KV Copper Conductor
Cable Code
No. of cores&
Nominal Conductor
Cross Sectional Area
No.×mm²
No. & Nominal
Diameter of
Strands
No/mm
Nominal
Insulation
Thickness
mm
Nominal
Sheath
Thickness
mm
Nominal
Overall
Diameter
mm
Nominal
Weight
kg/km
RF33226-XKDT-YT-12/20KV-3G25CU
3×25
7/2.14
5.5
2.9
62
2740
RF33226-XKDT-YT-12/20KV-3G50CU
3×50
19/1.78
5.5
3.0
65
3750
RF33226-XKDT-YT-12/20KV-3G95CU
3×95
19/2.52
5.5
3.3
72
5330
RF33226-XKDT-YT-12/20KV-3G150CU
3×150
37/2.25
5.5
3.5
79
7450
RF33226-XKDT-YT-12/20KV-3G240CU
3×240
61/2.25
5.5
3.8
91
10670
RF33226-XKDT-YT-12/20KV-3G300CU
3×300
61/2.52
5.5
4.0
98
13140
XKDT Single Core 12/20KV Aluminium Conductor
Cable Code
No. of cores& Nominal
Conductor Cross
Sectional Area
No.×mm²
No. &
Nominal
Diameter of
Strands
No/mm
Nominal
Insulation
Thickness
mm
Nominal
Sheath
Thickness
mm
Nominal
Overall
Diameter
mm
Nominal
Weight
kg/km
RF33226-XKDT-12/20KV-1G95AL
1×95
19/2.52
5.5
2.1
32
970
RF33226-XKDT-12/20KV-1G150AL
1×150
37/2.25
5.5
2.2
35
1310
RF33226-XKDT-12/20KV-1G240AL
1×240
61/2.25
5.5
2.4
40
1830
RF33226-XKDT-12/20KV-1G300AL
1×300
61/2.52
5.5
2.5
44
2140
RF33226-XKDT-12/20KV-1G400AL
1×400
61/2.85
5.5
2.6
47
2480
RF33226-XKDT-12/20KV-1G500AL
1×500
61/3.20
5.5
2.7
51
2920
RF33226-XKDT-12/20KV-1G630AL
1×630
127/2.52
5.5
2.9
56
3580
XKDT-YT Three Core 12/20KV Aluminium Conductor
Cable Code
No. of cores&
Nominal Conductor
Cross Sectional
Area
No.×mm²
No. & Nominal
Diameter of
Strands
No/mm
Nominal
Insulation
Thickness
mm
Nominal
Sheath
Thickness
mm
Nominal
Overall
Diameter
mm
Nominal
Weight
kg/km
RF33226-XKDT-YT-12/20KV-3G95AL
3×95
19/2.52
5.5
3.3
72
3310
RF33226-XKDT-YT-12/20KV-3G150AL
3×150
37/2.25
5.5
3.5
79
4360
RF33226-XKDT-YT-12/20KV-3G240AL
3×240
61/2.25
5.5
3.8
90
6020
RF33226-XKDT-YT-12/20KV-3G300AL
3×300
61/2.52
5.5
4.0
98
7000
RF33226-XKDT-YT-12/20KV-3G400AL
3×400
61/2.85
5.5
4.3
106
8010
XKDT-FT Three Core 12/20KV Copper Conductor Galvanized Steel Flat Wire Armoured
Cable Code
No. of cores&
Nominal Conductor
Cross Sectional
Area
No.×mm²
No. &
Nominal
Diameter
of Strands
No/mm
Nominal
Insulation
Thickness
mm
Nominal
Sheath
Thickness
mm
Nominal
Overall
Diameter
mm
Nominal
Weight
kg/km
Inner
Outer
RF33226-XKDT-FT-12/20KV-3G50CU
3×50
19/1.78
5.5
1.6
3.0
72.9
7470
RF33226-XKDT-FT-12/20KV-3G95CU
3×95
19/2.52
5.5
1.7
3.3
81.5
10100
RF33226-XKDT-FT-12/20KV-3G150CU
3×150
37/2.25
5.5
1.8
3.5
89.1
12800
RF33226-XKDT-FT-12/20KV-3G240CU
3×240
61/2.25
5.5
2.0
3.8
99.5
16850