FRA 155/S EMC Screened Multicore
Application
Multicore cable with very high resistance to temperature designed for internal wiring in lamps, heating appliances and distribution boxes in apparatus, mechanical and plant engineering, etc. Used for fixed and fl exible application in dry, humid and wet rooms.
Standards
IEC 60332-1, EN 50265-2-1 (flame retardant)
EN 50266-2 (non-flame propagating)
Construction
Conductors: Class 5 stranded tinned copper to IEC60228/VDE 0295.
Insulation: Electron beam crosslinkable polyolefine copolymer.
Screen: Copper wire screen.
Sheath: Electron beam crosslinkable polyolefi ne copolymer.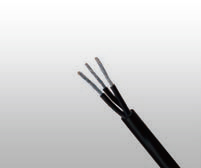 Electrical Characteristics at 20℃
Nominal Conductor Cross Section
mm²
0.25
0.50
1.5
2.5
Maximum Conductor Resistance
Ω/km
85.9
40.1
13.7
8.21
Voltage Rating
V
450/750V (≤0.5mm²); 600/1000V (>0.5mm²)
Mechanical and Thermal Properties
Minimum Bending Radius: 4xOD (Static); 6xOD (Flexing)
Temperature Range: -55℃ ~+155℃ (Static); -40℃ ~+120℃ (Flexing)
Short Circuit Temperature: +280℃
Dimensions and Weight
No. of cores& Nominal
Conductor Cross
Sectional Area
No.×mm²
Number and Nominal Diameter of Strands
No./mm
Nominal Insulation Thickness
mm
Nominal Overall
Diameter
mm
Nominal Weight
kg/km
2×0.25
19/0.13
0.5
5.1
34
6×0.25
19/0.13
0.5
7.0
67
4×2×0.25
19/0.13
0.5
14.0
277
4×0.5
16/0.20
0.5
7.6
76
16×0.5
16/0.20
0.5
11.6
206
3×1.5
30/0.25
0.6
8.7
119
10×1.5
30/0.25
0.6
14.7
332
16×1.5
30/0.25
0.6
22.0
740
8×2.5
50/0.25
0.7
18.0
498
9×2.5
50/0.25
0.7
18.6
518