FRA 145 Single Core
Application
Single core cable with improved fire performance and very high resistance to temperature designed for internal wiring in lamps, heating appliances and distribution boxes in apparatus, mechanical and plant engineering, etc. Used for laying in tubes, surface wiring, direct in plaster or underneath it, as well in conduits.
Standards
IEC 60754-1, EN 50267-2-1 (halogen free)
IEC 60754-2, EN 50267-2-2 (no corrosive gases)
NES 02-713, NFC 20-454 (no toxic gases)
IEC 61034, EN 50268-2 (low smoke density)
IEC 60332-1, EN 50265-2-1 (flame retardant)
IEC 60332-3, EN 50266-2, NF C 32-070 (non-flame propagating)
DIN 51900 (low fire load)
Construction
Conductors: Class 5 stranded tinned copper to IEC60228/VDE 0295.
Insulation: Electron beam crosslinkable polyolefine copolymer.
Colour Code: Various colours on request.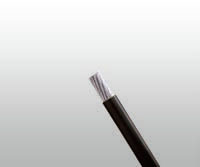 Electrical Characteristics at 20℃
Nominal Conductor Cross Section
mm²
0.25
0.34
0.50
0.75
1.0
1.5
2.5
4.0
6.0
10
16
Maximum Conductor Resistance
Ω/km
85.9
57.2
40.1
26.7
20.0
13.7
8.21
5.09
3.39
1.95
1.24
Voltage Rating
V
300/500V (≤1mm²); 450/750V (≥1.5mm²)
Nominal Conductor Cross Section
mm²
25
35
50
70
95
120
150
185
240
300
Maximum Conductor Resistance
Ω/km
0.795
0.565
0.393
0.277
0.21
0.164
0.132
0.108
0.0817
0.0654
Voltage Rating
V
300/500V (≤1mm²); 450/750V (≥1.5mm²)
Mechanical and Thermal Properties
Minimum Bending Radius: 4xOD (Static); 6xOD (Flexing)
Temperature Range: -55℃ ~+145℃ (Static); -40℃ ~+120℃ (Flexing)
Short Circuit Temperature: +280℃
Dimensions and Weight
No. of cores& Nominal
Conductor Cross
Sectional Area
No.×mm²
Number and Nominal Diameter of Strands
No./mm
Nominal Insulation Thickness
mm
Nominal Overall
Diameter
mm
Nominal Weight
kg/km
1×0.25
19/0.13
0.5
1.5
5
1×0.34
19/0.15
0.5
1.7
6
1×0.50
16/0.20
0.5
1.8
8
1×0.75
24/0.20
0.6
2.2
11
1×1.0
30/0.20
0.6
2.5
14
1×1.5
30/0.25
0.6
2.7
21
1×2.5
50/0.25
0.7
3.4
33
1×4.0
56/0.30
0.8
4.1
48
1×6.0
84/0.30
0.9
5.2
67
1×10.0
80/0.40
1.0
6.4
112
1×16.0
126/0.40
1.1
7.5
172
1×25.0
196/0.40
1.3
9.2
262
1×35.0
276/0.40
1.3
10.4
362
1×50.0
396/0.40
1.6
12.5
512
1×70.0
360/0.50
1.6
14.7
710
1×95.0
475/0.50
1.8
16.4
937
1×120.0
608/0.50
1.8
18.2
1159
1×150.0
756/0.50
1.9
20.8
1447
1×185.0
925/0.50
2.0
22.5
1790
1×240.0
1221/0.50
2.2
25.7
2318
1×300.0
1525/0.50
2.4
28.3
2897